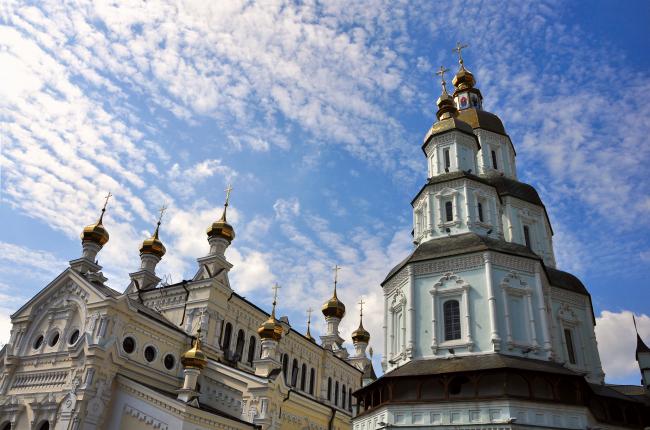 History of the Church of the Protection of the Blessed Virgin church in Kharkiv
& nbsp; & nbsp; & nbsp; & nbsp; & nbsp; & nbsp; The Stone Parish Church of the Intercession of the Blessed Virgin, consecrated in 1689 by Metropolitan Bryansk Abraham, on the banks of the Lopan, was built by Cossacks from a small settlement near the Kharkov Fortress. According to experts, the temple was built by the same unknown architect, who built the Transfiguration Cathedral in Izyum fortress five years earlier. At the direction of Tsar Peter I, who visited Kharkov in 1709, the fortress expanded to the north, and the Pokrovsky temple appeared on its territory.
& nbsp;
Pokrovsky men's school monastery in Kharkiv
In 1726 in Kharkiv, the Holy Protection Monastery founded a college monastery, the first higher educational institution in the left-bank Ukrainian lands. So since 1729 Pokrovsky church became simultaneously monastic (upper temple) and Collegium. The structure with its constructive features was repaired, the interiors were decorated, and in 1732 a massive bell weighing over one and a half tons was installed at the bell tower.
Architecture of the Pokrovsky Cathedral in Kharkiv
& nbsp; & nbsp; & nbsp; & nbsp; & nbsp; & nbsp; At the turn of the XVIII-XIX centuries. the upper church was transformed into a cathedral, and the lower left collegial. In the monastery sacristy, valuable religious rarities were preserved, among which there were the Holy Gospel, crosses, candlesticks, etc., and buried in the burial places by well-known clerics and revered city laity.
In the next century, the Cathedral of the Holy Virgin tightly surrounded the new buildings of the monastery yard and he experienced his own appendages. In the 1820s, a new Bishops' House appeared next to the northern facade, connected with the cathedral, and the built refectory connected the church with the bell tower.
After twenty years the department was transferred to the Assumption Cathedral, and the newly painted Pokrovsky turned into the Church of the Baptist Church of the Bishops' House. In the 1870s, they expanded the refectory, rebuilt the staircase on the second floor, and set up choruses. In another quarter century, the Pokrovsky Cathedral finally caught up with the new buildings of the monastic court, which stood up close to the southern facade of the Ozerian Church.
Decay of Holy Convent Monastery in Kharkiv
In the early 1920s the Holy Protection Monastery was liquidated, and museum collections and other organizations were located in its buildings. The abandoned Pokrovsky church in the 1960s decided to return the original appearance of the seventeenth century. For which the later disassembly was completed: the refectory between the church and the bell tower, the passage to the Bishops' House and the Ozerian Church. The work slowly lasted until 1992, when the complex of buildings returned the Church. Now carefully restored Pokrovsky Cathedral is the main church of the Holy Virgin Monastery - the historical spiritual and educational center of Sloboda Ukraine in the heart of Kharkiv, which is subordinated to the Kharkiv diocese of the Ukrainian Orthodox Church.
How to get to the Pokrovsky Cathedral in Kharkiv
& nbsp; & nbsp; & nbsp; & nbsp; & nbsp; & nbsp; From Railway Lane (central railway station in Kharkiv) you need to walk 610 meters towards Kokcheateevskaya street (approximate time on the road for 7 minutes). Next, take a shuttle number 40e (waiting time for a bus stop can take you 12 minutes) and go towards Metro station "Central Market" (approximate time on the road 4 minutes). Then go down the subway, get into the train, which moves towards the metro station Square Constitution. Then leave the metro, walk 280 meters towards Pokrovsky Cathedral (University University Street, 6). The cathedral can also be reached by car. & Nbsp;
- Price: free
Working hours:
Mon - Sun: 8:00 - 18:00
Більше фото
Beginning of construction: 1689 year
End of construction: 1689 year