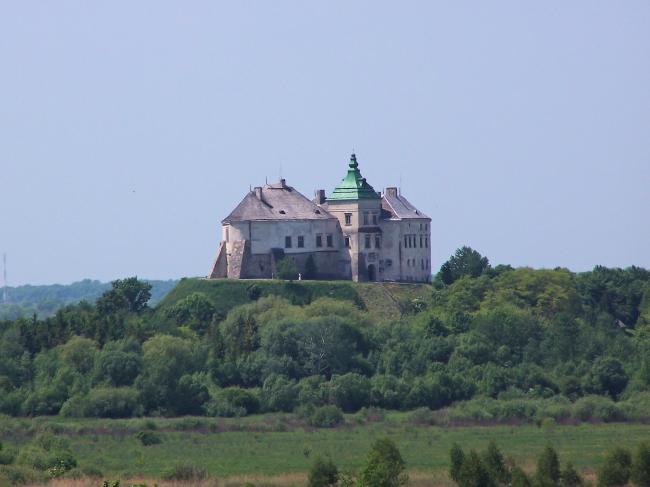 Olesky castle - one of the most popular castles in Ukraine. Not so magnificent in scope, it has a great cultural and historical significance as an example of a medieval residence of the Polish gentry. The castle hosts a branch of the Lviv Art Gallery - an exhibition dedicated to medieval art.
Here, old paintings, furniture and household items are collected, which, to a certain extent, reproduces the authentic interiors of the castle, which enhances the effect of immersion in the atmosphere of antiquity. In general, the view of Olesko Castle, which rises on a single hill above the valley, is very picturesque - like a frame from the historical film.
Researchers believe that the Olesky castle was erected in the XIII century on the site of the ancient native settlement destroyed by the Golden Horde.
Olesky castle: medieval residence
The height of the castle reached at the beginning of the XVII century. Its owner, the Lviv castellan Ivan Danilovich, transformed the ancient fort into a magnate's residence. It was then that, under the guidance of Italian architects, the castle acquired modern forms: medieval buildings were renovated in Renaissance style.
Oval structures encircle the top of a hill that rises above the swampy plain. The entrance to the castle is through a spectacular gates tower with a wide arch of the gate. Around the compact courtyard are the palace buildings, the outer walls of which are adapted for defense, and the inner walls of the courtyard are beautiful portals and wooden galleries. Inside, there were also chambers of magnates, and chapel, and barracks, and utility rooms.
Olesky castle: medieval residence
Around the Olesky castle is an ornate sculpture park with a pond. Over the park rises the roof of the Capuchin monastery, built in the Renaissance style.
The history of the castle is associated with outstanding personalities of his time. Here was the father of Bogdan Khmelnitsky Mikhail Khmil. It was Ivan Danilovich who presented him a farm in the city of Sabbat, which became the generic residence of Khmelnitsky. 1 629, during the great weather and the Tartar invasion, the grandson of Ivan Danilovich Jan Sobieski was born in the castle, who subsequently became king of Poland, Jan III, and won a great victory over the Ottoman Empire in the Battle of Vienna in 1683, which permanently put an end to the hostile campaigns of the Turks to Central Europe .
Olesky castle: medieval residence
The Battle of Vienna is depicted on the great battle of Martino Altomonte (1692), one of the most striking exhibits of the castle collection.
Work time:
- Wed - Fri: 10: 00-16: 00 (Sat, Sun - from 11:00), Exit. - Mon
Condition: needs restoration