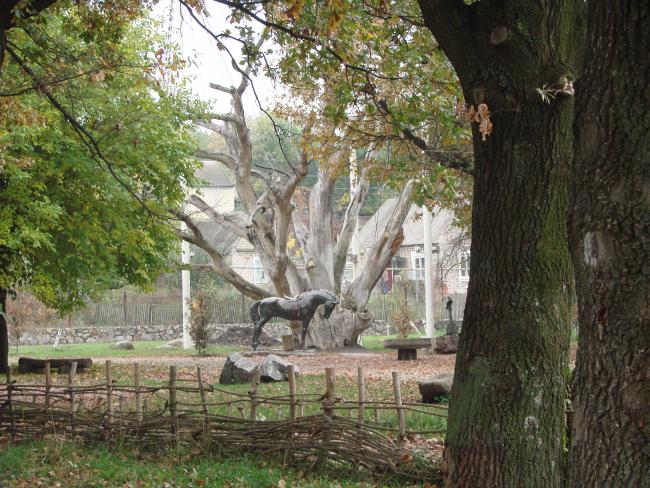 Zaporozhye Oak - Zaporozhye
In Zaporozhye there is a unique oak, whose age is about 700 years old. The history of the tree is surrounded by a myriad of legends, "meetings" with legendary people and historical events.
Zaporizhzhya Oak was a witness to writing a letter from the Zaporozhians to the Turkish sultan, under his crown Taras Grigorievich Shevchenko read the poem "Catherine" about the sad fate of the peasants, and in 1648 under his powerful branches rested Bogdan Khmelnytsky.
New technologies also do not bypass the oak side. Recently, the oak has a QR-code on which it can be found on the Internet.
The height of the tree is 36 meters, the girth of the barrel is more than 6 meters and weighs approximately 60 tons.
Now the Zaporizhzhya oak is quietly dying. Since 2002, everything is possible to save the tree: metal supports have been installed, fortified soil sinks, wood is processed, and now it is planned to "conserve" it.
Around the tree grows "young generation" of the oaks of its branches, whose age is about 12 years. Also, young ducklings are already planted in 14 countries of the world!
In 2001, along with an oak, a historical and cultural complex was opened.
There is a chapel on its territory, Zaporizhzhya Cossacks performances of the Zaporizhzhya Spas Theater of Cossack Theater, as well as one of the Zaporozhye parks, which is an excellent place for rest and horseback riding.
Age: more than 700 years
Height: 36 meters
Diameter of a barrel: 6,5 meters
Crown Diameter: 43 meters