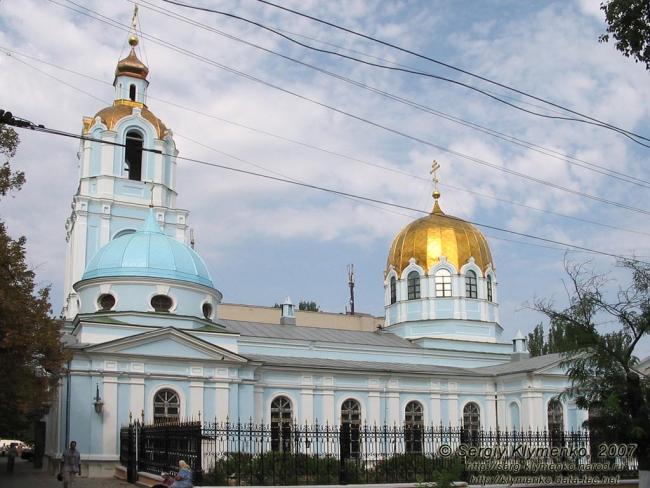 Cathedral of the Nativity of the Virgin - Mykolayiv
One of the oldest monuments of Nikolaev is called the Cathedral of the Nativity of the Blessed Virgin. Consolidated he was literally during the first decade since the appearance of the city of Nikolaev. The built cathedral was for the money of merchants, but much effort was put into its construction, and thanks to them, the Cathedral of the Nativity of the Blessed Virgin Mary in Nikolaev pleases us with you to this day.
Characteristic features of the cathedral are its height, which is almost 38 meters, the powerful walls that rocked their rock-shell, the high bell tower, which was erected for centuries, as well as the amazing beauty of frescoes and ornaments decorating the interior decoration of the cathedral. Of course, the former greatness of the temple has undergone many changes and not all of its magnificence has reached our eyes.
For example, a beautiful bell, announcing about any services in the cathedral and whose bell was heard throughout the district, unfortunately could not overcome the events of wartime. But many frescoes, icons, as well as other church belongings were either completely destroyed, or exported, or simply plundered. But, as they say, faith and the desire to revive such a wonderful monument of Nikolaev were able to bear fruit.
Cathedral of the Nativity of the Virgin
Today, our glory opens the beautiful temple, which was reborn as well as geographically, since the original building was added two more borders. A new dome was erected at the cathedral, and its top was decorated with a beautiful new golden cross. During the reconstruction works, the bell tower, where a new cross with a weight of 340 kg and a height of 3.5 m was installed that was cast by the efforts of the workers of the plant of 61 communards, was not forgotten.
It is worth paying attention to the fact that the Cathedral of the Nativity of the Virgin in Mykolaiv is not only one of the most beautiful monuments of the city, but also a spiritual center that conducts preaching and educational activities.
There are more than 50 Sunday schools on the territory of the cathedral, as well as practically the same number of libraries, the fund of which exceeds 20 thousand books, which is the real treasury and the pride of the cathedral. The unsurpassed atmosphere and spiritual heritage, preserved especially for all visitors, will fill you with new experiences that will accompany you for a long time and hopefully inspire new undertakings and steps.
- Price: free
Work time:
- round the clock
Start of construction: 1800 years
Renovated: 1828