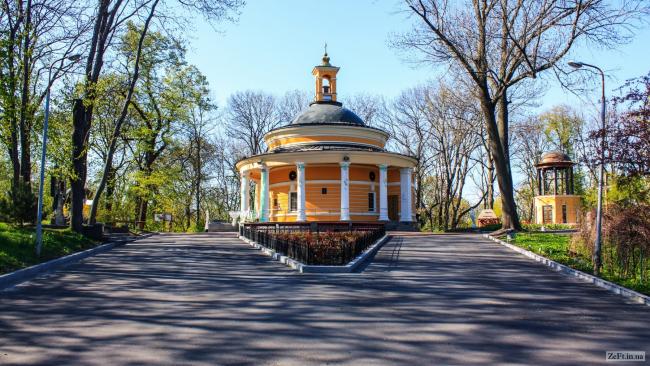 Askold's grave in Kiev
A little way below the Square of Glory to the descent is Park Road. Here, among the picturesque greenery is the protected area - Askold's grave.
According to the Nester Chronicle, Askold and Dir from the environment of Prince Rurik made a trip from Novgorod to Kiev, seized the city on the Dnieper and began to rule here. But in 882 the successor of Rurik, Prince Oleg, in turn, reached Kiev. Learning about the self-righteousness of Askold and Dir, he announced to them that the true ruler is the little son of Rurik Igor. The Varangian wife killed Askold and Dir, and Oleg, therefore, became the prince of Kiev, declaring: "It will have Russian cities."
Accord burial place
      Remained in folk memory, and from ancient times (believed that from the reign of Olga) there was a church of St. Nicholas In 1810 a new stone church appeared in place of the previous wooden temple in the form of a classic rotunda covered by a dome (architect A. Melensky).
Only in 1998 the restoration returned to the ancient temple of St. Nicholas has his former appearance. Now in the church, the priests of the Greek-Catholic confession rule, who transferred to the altar a copy of the miraculous Zarvanetsky icon (Zarvanetsky Temple is located in the Ternopil region).
Not far from the church there is a cross in memory that in 1918, at Askold's grave, young patriots were buried, who died near the station of Kruty. The young men took a fight there with the Bolshevik army, trying to defend Ukraine's independence.
Not far away, on the Dnieper descent, a chapel was constructed (architect M. Zharikov, 2000) in honor of the apostle Andrew the First Called.
How to get to Askold's grave in Kiev
From the Vokzalnaya square, 1 (the central railway station in Kiev) it is necessary to pass 230 meters (4 minutes) in the direction of the metro station "Vokzalnaya". Then take an electric train (Svyatoshinsky-Brovarskaya line) (waiting time for transport on the platform can take you 2 minutes) and go towards the metro station "Arsenal" (approximate time on the road - 10 minutes). After leaving the metro, go 910 meters (15 minutes) in the direction of Askold's grave in Kiev (Parkway, 1). Also, you can reach the grave on your own car.
- Price: free
Work time:
- round the clock
Більше фото
Beginning of construction: 1809
End of construction: September 1, 1810
Architect: Andrew Melensky
Founder: Samiylo Meshcheryakov