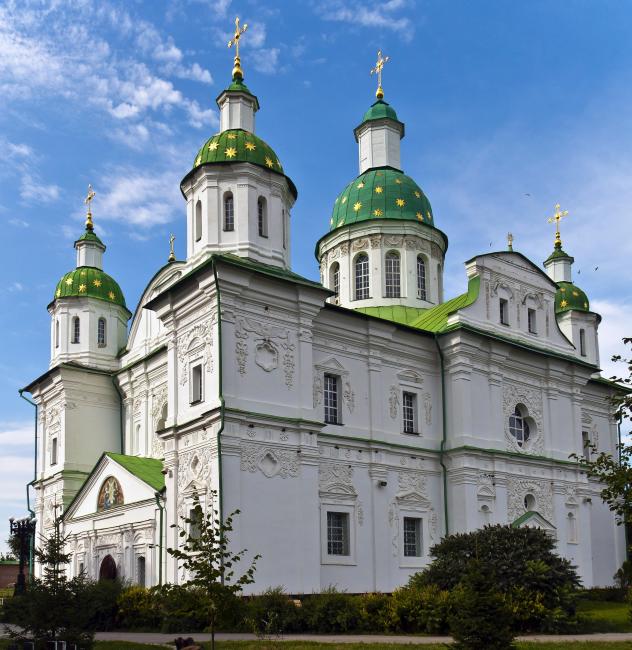 Ancient legend of the dream princess Vyshnevetsky (sister of Metropolitan Peter Graves) told a story "Twins" Taras Shevchenko: it supposedly had a dream stay in paradise, there it brought the angels with words that come here it will only after his own expense to build a temple God in their possession on Mgarsk hill, a few kilometers northeast of Luben. First Mgarskyi Transfiguration cathedral was consecrated in 1628. Initially, all monastery buildings were made of wood and stone to build a complex of monastic buildings began in the 1680's on the southern spur of a plateau right bank of River Valley Sula, near the mouth of her ten-robin tide.
In 1684 at the initiative of Ivan Samoilovych dismantled old - wooden - Transfiguration Cathedral and in the middle of the monastery yard built a stone. The designer and first builder was Johann Baptist Sauer (before he lifted Trinity Cathedral Chernihiv), Martin helped him Tomaszewski and completed the master Athanasius Pyryatynsky.
Fire at the Holy Transfiguration Monastery Mgarsk
Cathedral suffered a hard life: in 1728 collapsed central dome part with vaults. During the year the temple rebuilt, but in 1736 a great fire damaged the Transfiguration Monastery Mgarskyi and destroyed all the wooden buildings of the monastery. Cathedral restored, reduced the number of domes from seven to five, western porch was rebuilt, facades covered with bas-reliefs with floral patterns - and re-dedicated in 1754
Architecture Holy Transfiguration Monastery Mgarsk
The greatest dawn monastery reached in the XVIII century. Then her ensemble consisted arisen at different times stone Mgarsk Holy Transfiguration Monastery community cell body, monastic walls around the yard, bell tower, building Archimandrite, facilities for pilgrims and warm Annunciation Church. Once the main gate of the monastery were three-tiered bell tower, embedded in the perimeter wall. Construction of the tower with a consistent decrease in area and height tiers began in 1785 and continued intermittently until 1844. The first tier is square in plan with rounded corners, its facades decorated chotyrykolonnymy Doric portico with triangular pediments. The upper, cylindrical in terms of tier cut high arched openings, flanked by paired Ionic (second tier), Corinthian (in the third) columns. Topped by a hemispherical dome bell tower.
Holy Transfiguration Monastery Mgarsk
Closed in 1930 the monastery was returned to Orthodoxy in the early 1990s. Now revived one of the oldest and most respected, Mgarskyi Transfiguration Monastery is an architectural gem of national importance and subordinate Poltava Eparchy of the Ukrainian Orthodox Church.
Getting to the Holy Transfiguration Monastery Mgarsk
From Moscow area, 3 (Kiev Bus) or VYDUBYCHI regular shuttles go towards the town Lubny . The distance of 203 km. More from Luben to Mgarsk monastery can be reached either by taxi or private car. Calculate route
- Price: Free
Work time:
- Mon - Fri: 8: 00-17: 00, Closed. - Port.